Last Updated on September 9, 2022 by Lori Geurin
Do you want to live a healthier life? Do you want to be more active or eat healthier foods? Whatever your health goals may be, there are many health challenges that can help! These 30-day challenge ideas were created by other bloggers and health coaches in order to help people achieve their health goals through a variety of different methods.
If you need some ideas for how to start a healthy lifestyle or get back on track with your wellness journey then one of these health challenges could be perfect for you!
You'll discover some of the best health and wellness challenges and ideas for weight loss, self-improvement, and fitness. There's something for everyone! And they're the perfect way to start creating a better life for yourself.
This post may contain affiliate links. This means that if you make a purchase through one of my affiliate links, I may get a small commission at no additional cost to you. Thank you so much for supporting our little blog. I appreciate you!
What Is A 30-Day Challenge?
A 30-day challenge is a tried-and-true method for establishing new healthy habits and improving your life.
You may have come across online wellness challenges on Pinterest or during a Google search. They've been around a while, but they've recently become extremely popular. Why? Because they're fun and they work!
They can be a fun way to spice up your life and break out of monotonous routines while embracing healthy habits. Most of the challenges are easy to start and focus on particular health or wellness goals or habits.
I just finished a 30-fitness challenge doing bodyweight exercises every day for a month and I'm feeling stronger, healthier, and more fit. I enjoyed it so much that I just started another challenge!
30 Day Challenge Tracker Printable
A 30-Day Goal tracker is a printable tool for keeping track of your progress and staying organized during a health and wellness challenge. We created a 30-Day Challenge Journal Tracker as a simple, yet powerful technique to track your exercise and nutrition challenges.
It helps you to keep track of your health and fitness goals while remaining organized and inspired! The tracker has slots to record information or check off each day you achieve your goal.
For those who want to be healthy and form positive habits, the 30-Day Challenge Tracker is a fantastic tool!
Benefits of Fitness Challenges
Here are just a few of the advantages you'll enjoy doing fitness challenges:
Benefits of Wellness Challenges
Depending on the specific challenge, you may enjoy some of the benefits listed above in addition to the following:
Creating new, healthy habits
Improved mood
Improved mindset
RELATED: How to Develop a Growth Mindset: 6 Practical Tips for Personal Success
Twenty 30-Day Wellness Challenge Ideas for Self Improvement
Each challenge is self-paced, which means you can start and stop them whenever it's convenient for you. My advice is to focus on no more than 1 or 2 at a time. More than this can be ineffective.
Simply click the links below to visit each of the challenges. You may want to share this post with a friend so you can do the challenges together. Have fun creating new healthy habits!
1. Social Media Detox Challenge (with a FREE printable calendar tracker!) from LoriGeurin.com
Check out the weightlifting log book on Amazon to help you stay motivated and organized!
5. Squat Challenge from Happy Healthy Motivated
Printable Gratitude Wellness Journal
Do you want to start practicing gratitude on a daily basis? It's simple to get started, and it has a positive influence on almost every area of your life. You may want to print out a gratitude journal to document all of the wonderful things that happen to you each day.
Check out our Gratitude Wellness Journal and Daily Gratitude Tracker to get started!
RELATED BLOG POSTS
RELATED: 9 Surprising Health Benefits Of Drinking Lemon Water
Want to learn what to do when you say something you regret? These important strategies will help you be more forgiving of yourself and flip the script on negative self-talk.
LATEST POSTS
Check out the 7 benefits of walking!
Printable Weekly Workout Tracker
Our printable fitness tracker can help you stay on top of your fitness goals and not miss a beat.
Looking to keep track of the workouts you've completed? Our printable workout tracker to help!
RELATED: 7 Simple Tricks To Reduce Sugar Cravings More Effectively
RELATED: 10 Wellness Habits for a Healthy Life: Self Care Matters
If you liked these 30-day challenge ideas, you're going to love: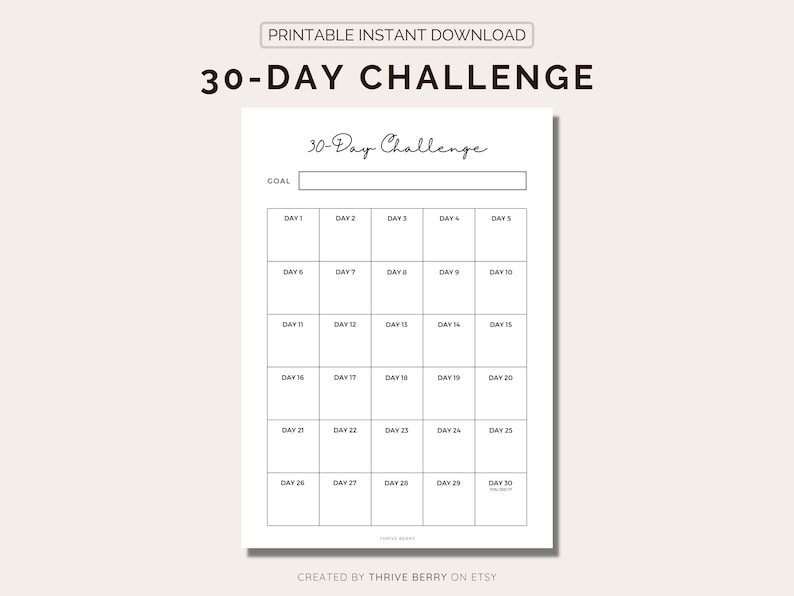 Do 30-Day Challenges Actually Work?
Doing a personal wellness challenge is a great way to start implementing new, healthy habits. Plus, lots of people find them fun and motivating too!
Many times you'll finish one challenge and realize you're ready to jump into doing another one right away. This could be because most challenges are fairly easy to carry out, and don't require a huge time commitment out of your day.
When you realize the progress you've made in such a short time it really is motivating to keep going.
It's good to be aware that 30 days may not be enough time to make your new habits automatic but it sure is a great place to start! According to one study, it generally takes between 18 and 254 days for a behavior to become automatic.[*]
Remember that the more you practice a behavior, the more automatic it will become.
RELATED: How to Continue Your Personal Growth and Development Journey
What Is a Good Monthly Challenge?
Taking care of yourself and your health and wellness is a wonderful monthly goal to embrace. A self-care or wellness challenge might imply various things to different people, but the goal is to develop new healthy habits or improve yourself in some way.
Even if you don't achieve your goal, self-assessment and reflection can be very rewarding. As health and wellness challenges are becoming more popular, there are plenty of options to choose from!
RELATED: 31 Tools For Self Improvement and Personal Growth
Final Thoughts: Fun 30-Day Challenges
Self-care and wellness challenges are a great way to improve your health and well-being. Whether you decide to take on a 30-day challenge or something shorter, make sure the challenge is appropriate for your needs and goals.
There are plenty of fun and rewarding challenges to choose from, so pick one that sounds appealing and get started!
Check out our Thrive Berry Etsy shop for tons of printable health and wellness journals, trackers, and more!
Have you tried a 30-day wellness challenge? What was your experience like?